The state budget of 2006 will be reconsidered in the second half of the current year, Minister of Finance Avaz Alakbarov stated.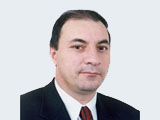 Mr.Alakbarov said that budge surplus was forecasted to occur in the first half of the budget, but did not announce a certain figure on the volume of the budget surplus.
The Minister said that due to the budget surplus, means allocated for some fields, including defense costs would be increased. At the same time, growth will take place in salaries in some state organizations funded from the budget, APA reports.