The Azerdemiryolbank Joint-Stock Bank (JSB) joined the Travelex international money transfer system.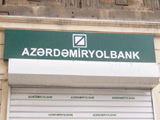 As APA was informs, implementation of money transfer operation through Travelex, one of the most operative international systems, takes 2.5-3 minutes.
As the sum grows, commission charges for money transfer operation decrease. However, the minimal amount of commission charges for a $5 thousand operation makes up 1.9%.
Azerdemiryolbank also operates on the MoneyGram, Migom, Contact, Bistraya Pochta international systems and Shimshek intra-republic money transfer system created by the Bank itself. The Bank has 18 branches at present, including 12 regional branches.