Time-table of trains will be reviewed at the next meeting of the Railway Transport Council of the CIS and Baltic countries in Tallinn late in April.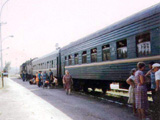 As APA informs, the Azerbaijani party advanced proposals on making some changes to the time-table. These proposals include reducing stoppage time in frontier check-points to 1 hour, reducing inspections and crossing the border at day-time.
Proposals were approved in the initial discussions and the final decision is expected to be issued by the end of April.