New equipment regulating gas supply is expected from Holland to Nakhchivan gas-turbine power plant these days.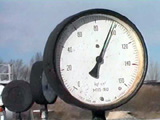 As APA repors, after the new equipment is installed in the 1st and 2nd power units of the plant, the plant will be put into operation.

Scheme of exploitation of those power units and their connection to the single power network of Nakhchivan AR has already been developed.
As a result of installation of the new equipment, the power units can be driven to maximal production capacity, 10 megawatts each, within two years.

During this week assemblage works will be continued in other two power units by the Enerco Company of Germany, GTT of Italy, and ABB of Austria.
Besides, 35 KV and 110 KV transformers ordered in Turkey will be brought to Nakhchivan within the next few days. Construction of a 110 KV new "Khal-khal" substation will be started in Shahbuz region this week as well.