"Holding the symposium on Energy Efficiency and Sustainable Development in Baku has a great significance for Azerbaijan."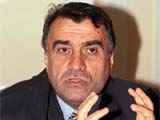 This explanation was given to journalists by the Minister of Industry and Energy Natig Aliyev, APA reports.
According to the Minister, this event could have been held in other countries as well, but the fact that it was held in Baku shows that Azerbaijan is rapidly developing and its influence among world countries is increasing: "Azerbaijan's influence in the field of oil and gas increased so that today Azerbaijan is paid great attention for its rich oil and gas resources, convenient position as a transit country, and political-geographical situation. As regards positive sides of the symposium for the country, energy is essential part of the humanity and countries' demand to it is increasing from year to year. Saving energy for next generations has become a problem of the humanity".
Mr.Aliyev noted that it's great problem for Azerbaijan too and added that despite energy is produced in the country in large quantities today, efficiency is very low: "Losses that we have are several times more than the accepted norms. In order to produce additional 1 million tons of oil, hard work and great amount of capital are required. It is a crime to allow losses while energy production is so hard".