On April 1 the Azerbaijani State Commission on Student Admission (SCSA) will hold entrance exam on admission to work to the State Property Management Committee (SPMC), SCSA informs.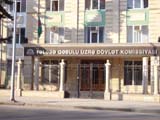 Applicants will participate in the competition for position of the General Counsel, Leading Counsel and Senior Counsel.
The number of the applicants is 81, including 17 women and 64 men. The applicants are due to answer 100 questions. Every true answer is estimated at 1 point. People gained 80 points will be able to continue on the second level, Trend reports.