Deficiency of liquid gas in the republic will be eliminated these days.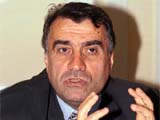 The problem occurred because of productivity decline due to repairs implemented in the Azerneftyanajag (Azeroilfuel) Production Union, APA reports due to the Minister of Industry and Energy Natig Aliyev.
Mr.Aliyev also expressed his attitude to excess of retail sale prices in the cities and regions of the republic including Sumgait: "The price of liquid gas is regulated by the government. Measures taken against those increasing prices will be continued and licenses of those stations will be cancelled".
Mr.Aliyev also said that special commission was established under the Ministry of Industry and Energy for this purpose. Employees of the Ministry conduct raids in the regions at present.
According to the Minister, 37 gas-filling stations have already been examined in Baku and all of them were given warnings by the Ministry.
Several gas-filling stations in north, south and other regions sell liquid gas at a price (AZM 1000-1250 or 20-25 kopecks) exceeding the government's price (AZM 850 or 17 kopecks) by 20-50%.

The Ministry of Industry and Energy cancelled licenses of 5 gas-filling stations in Baku and north regions.