The Azerenergy Open Joint-Stock Company (OJSC) is implementing structural reforms in the Bayva Energy Management Centre.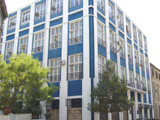 Although the networks have already been created, fixed assets were not included in the statement of balance. Journalists were informed about it by the Azerenergy vice-president Marlen Asgarov, APA informed.
Mr.Asgarov said that the after abolition commission presents the legal document, fixed assets would be included in the statement of balance of Azerenergy.
Collection of electricity fees continues in its previous way. Electricity supply meters are in very bad conditions. According to Mr.Asgarov, first of all, the key objective is to install electricity supply meters in city and regional centers and thus, increase energy efficiency: "Besides it, a plan on reduction of losses and works to be implemented in future was also prepared. Moreover, we intend to purchase 600 thousand power supply meters and want to obtain a credit for it. We are conducting negotiations in this direction."
It should be noted that the situation of the network is not satisfactory at present. Amount of funds required to eliminate problems has not been precisely calculated yet.