Specialists of the National Bank of Azerbaijan (NBA) prepared a bill on housing-savings banks.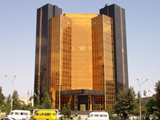 According to APA, the new bill aims to improve mortgage crediting system in the republic.
Such banks will receive savings for period of 3-5 years and then those depositors will be granted mortgage loans. The bill is expected to be presented to the parliament soon.
15 authorized banks of the Mortgage Fund have started funding of mortgage loans at the expense of state budget resources since March 1. Credits will be extended for period of 3-15 years with maximum 12% rate per annum.