Azerbaijani-Spanish business forum was held in Baku March 23. It was the second business forum between Azerbaijani and Spanish entrepreneurs, the first one was held in Madrid in 2003.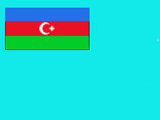 As Trend reports, organization of this sort of events helps strengthening the business relations between the two countries, which are particularly weak now. This can be seen from the total amount of the foreign trade between Azerbaijan and Spain, which made up $92m in 2005, i.e. 1.2% of the total foreign trade of Azerbaijan ($8bn) $76m of Azerbaijani goods were imported to Spain in 2005; they included oil, oil products and nuts. Building materials, domestic equipment, furniture and food with the total cost of $16m were exported to Azerbaijan from Spain.
Total amount of trade between the two countries was $1.4m in 2003, after the first forum it has reached $20m in 2004. However, there are still some problems left. One of them is a lack of relevant information; Spanish businessmen know little about economic processes in Azerbaijan. The other problem is a lack of necessary transport connections. On the other hand there is also no appropriate legal base for the relations, Head of the National Confederation of Entrepreneurs in Azerbaijan (NCEA), Alekper Mammadov underscored.
Intergovernmental agreement on "protection and boosting of bilateral investments" is still under the discussion since 2002. Intergovernmental agreement to avoid double taxation was also presented by the Azerbaijani side to Spain in 2001, but it is still at the stage of discussion. Absence of Spanish Embassy in Azerbaijan also has negative role in the relations. However, there is some progress on that issue, as Azerbaijani diplomatic representation was opened last year in Madrid.
Mammedov also mentioned that there are a number of priority areas, which may strengthen the relations; oil and gas sector, tourism, agriculture and industry. Furniture production and lightening techniques are of special interest for Azerbaijan, considering the building boom in the country.
Representative of the Spanish Association of Decorative Illumination Marta Fabuel Esteve has noted that Spanish companies had arrived to Azerbaijan to find specific partners. Spanish decorative illumination companies have already represented in the CIS countries (Russia, Ukraine, Kazakhstan), the United States and Europe. They also present their produce at the international exhibitions. Esteve stated that there are enough chances for the bilateral cooperation which can be developed on the basis of the business forums.
Representatives of Baku Executive Power and the Ministry of Taxes Abdul Mammedov and Bakhtiyar Abdulrakhmanov told guests about the measures conducted to enlighten Baku and other cities and tax reforms in the country.