Ceremony of sugar mill opening will be held within the framework of the visit of the President Ilham Aliyev to Imishli and Ali Bayramli March 23.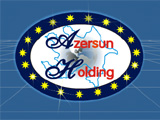 As APA reports, $80 million was utilized for building of the sugar refinery. Daily production capacity of the mill is 5 thousand tons.
There is over 2 thousand tons of sugar beet stock in the mill for starting production. The sugar refinery intends to expand cooperation with farmers engaged in sugar beet production by the end of the current year and it is planned to broaden sown area from 2 thousand to 15 thousand hectares for this purpose.