This year oil production is expected to hit a high of 30 million tons for the first time in Azerbaijan, State Oil Company of Azerbaijan reported.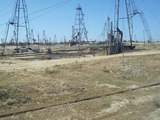 As AzerTAg reports, the daily oil production in the Azeri-Chirag-Guneshli oilfields is scheduled to reach 439 thousand barrels. Chirag-1 oilfield will produce an average of 138 thousand barrels, Central Azeri – 226 thousand barrels and Western Azeri – 75 thousand barrels.
Oil production stood at 22.2 million tons in 2005 while gas production increased by 812 million cubic meters to 5.82 billion.