Central and Eastern Azeri platform of Azeri-Chiraq-Guneshli project will give 750000 barrels of oil in the second quarter of this year.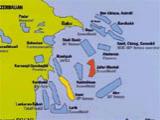 According to the information of BP-Azerbaijan, the operator of the project 450000 barrels will be produced from Central Azeri and the rest from Eastern Azeri, ANS reports
Now in the frame program for extending Sangachal terminal the main issue is constructing pumping stations of Baku-Tbilisi- Ceyhan. These pump stations will pump one million barrels of oil every day. The construction of upper modules of Eastern Azeri platform in sea will over till the end of this month and will be turned over operation group duties.
Planned to begin the third period, production of deep oil deposits of Guneshli oil deposit on the second quarter of 2008.
Bruce Liberski, vice-president informed that the works for this period done according to the schedule and for the third period of works drilling, technical supplies, living platforms, living blocks and other setting will be brought to Baku in the second quarter of this year.
Generally, $1.8 billion were spent to Azeri-Chiraq-Guneshli project in the first two months of this year. $7 billion were spent to operation of this project since 2001.