Experts of the Japanese International Cooperation Agency (JICA) will participate in construction of the first combined-cycle plant (CCP) in the Shimal Power Plant.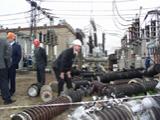 As APA reports, after completion of the project the creditor bank tracks utilization of funds it allocated, and it helps formation of the bank's financial policy towards its partner in future.

The Japanese Bank for International Cooperation (JBIC) allocated a $200 million credit for construction of the 400 megawatt first CCP in the Shimal Power Plant and the plant was put into operation late in 2002. In the current year it is planned to build the second analogous CCP there. The respective credit agreement was signed with JBIC this time.
Mr.Ibrahimov said that a joint mission of JICA and JBIC will visit Baku by the end of March. Details of preparation of the report will be coordinated during the visit.
"The principal goal is studying of operation of the power plant and revelation of shortcomings by independent experts and efficient and purposive utilization of funds in the new project", - the OJSC official stressed.
Preparation of the final report is expected in 1-2 months.