February 17 the Azerbaijani Tax Ministry held a presentation of ATIS (automated tax information system) project, which has been applied since 2006, for the government officials.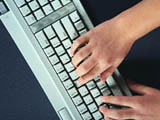 PM Artur Rasizade, Vahid Akhundov, the state adviser on economic issues of the President's Office, ministers and heads of state bodies attended the presentation, Trend reports.

ATIS project was sanctioned upon the adoption of a national strategy on communications and information technologies for 2003-2012.

The Minister touched upon the structure reforms held in the tax system which targets increase of transparency in tax bodies, improvement of tax administration, and strengthening of tax control. "The weighty achievement in the improvement of tax system over the past few years was the implementation of ATIS project," he stressed.
As a result of implementation of the project the tax bodies of the country will have the most advanced information technologies not only in CIS, but Eastern Europe, according to the Minister.
During the presentation of the project the Deputy Minister for taxes, Natik Amirov, spoke about priorities of ATIS, in particular, removal of excess paper red-tape, transition to electron carriers, which will accelerate the operations.
The system will expand control opportunities, improve the exchange of information as a result of integration into other state bodies, as well as establish communications between the tax bodies and taxpayers, he assured.