$7bn manats has been invested since the beginning of Azeri-Chirag-Gunashli (ACG) implementation, Nadir Imanov, a spokesman of BP, an operator of ACG, told journalists during briefing at Sangachal Terminal March 17.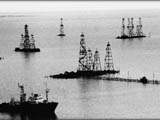 According to Imanov, since 2001 expenses under the ACG project (Phase 1 and Phase 2) have comprised $6bn and under Phase 3 - $1bn. The Phase 3, which was sanctioned in September 2004, envisages the development of deepwater Gunashli field.
In 2005 $1,3bn was spent under the Azeri project and $0.8bn – under Phase 3. In 2006 $0.5bn was spent under Azeri project and $1.3bn – under Phase 3, Trend reports.