Course on "Credit evaluation" will be conducted in the Azerbaijan Bank Training Centre (ABTC) March 22-24.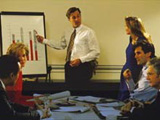 As APA reports, the course will be guided by local and foreign specialists. At present ABTC is conducting courses on "Agricultural crediting" and "Advanced methods of human resources development".
ABTC was established in February, 2000 with the support of TACIS project. The Centre conducts about 200 courses every year. Over 630 courses have been organized in ABTC so far and more than 7850 participants attended in those courses. 12 courses will be conducted this month. Participants of the courses are given certificates.