Intergovermental agreement on Kazakh oil transportation via the BTC can be signed in 2006.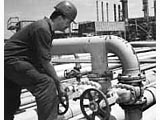 An Azerbaijani working group on development of an agreement on transportation of Kazakh oil via the Baku-Tbilisi-Ceyhan main export oil pipeline is currently studying proposals by the ministries and administrations on injection of changes in the intergovernmental agreement which is under development, Trend reports citing Abid Sharifov, the Azerbaijani first deputy premier.
The changes concern technical issues of the agreement, as well as some other sides. The agreement can be signed this year, deputy premier noted.
Andar Shukputov, the Kazakh Ambassador to Azerbaijan, announced that the last meeting of the working groups on development of intergovernmental agreement on oil transportation was held in September 2005.
The agreement was designed on the level of state oil companies that participate in BTC project.
Upon completion it was submitted to the consideration of the Ministries and administrations of Kazakhstan and was adopted in the variant designed by the national companies.
No changes were included in the document by the Ministries and administrations of Kazakhstan and it was submitted to Azerbaijan in January.