The prices on liquid gas have not increased and a surge is not expected, Industry and Energy Minister Natig Aliyev has said, downplaying the recent concerns over a price hike.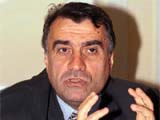 "Some gas-filling stations are artificially raising the prices on fuel in Baku and the country's northern regions, which is causing public discontent," he said.
The minister said immediate steps are being taken to prevent the artificial increase by some businesses, which is not related to a shortage of gas, AssA-Irada reports.
"Even if there was a shortage, no one has the right to sell gas for more than a price envisioned by the Cabinet of Ministers decree."
Aliyev said the licenses of several companies have been invalidated over the violations, adding that the ministry will continue inspections to crack down on the businesses committing them.
The minister did not rule out that the contract the state had reached with the Turkish electric power supplier Barmek, some of whose executives are facing criminal charges, will be repealed. The agreement will be reconsidered if the prosecution authorities find serious violations at the company.
"But until a new company launches operation here, the capital Baku and other regions that Barmek sells electric power to will not experience problems. If a decision is made on Barmek, Azerenergy may undertake the task of supplying the population with electric power," Aliyev added.
/AzewrNEWS/