The Caspian Shipping Company (CSC) will purchase two more tankers soon in order to expand its fleet.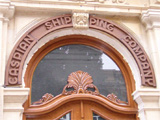 The CSC chief Aydin Bashirov told journalists that one of those ships will be brought to Baku in May and another in November this year.
According to Mr.Bashirov, CSC has 40 tankers at present. The "Koroghlu" tanker will be brought to Baku in a month and a half and the next tanker will be brought in November.
Mr.Bashirov saying that CSC is capable to transport 20 million tons of oil yearly noted that at present approximately 11 million tons of freight is transported: "If freight increases in future, new tankers will be bought."
Mr.Bashirov also brought explanation to some issues concerning bird flu. He said that if bird flu doubts are revealed in the ships, bird flu-suspected persons will be immediately isolated. Such ships will be removed from lines and ports without delay.