The construction of overpasses aiming to alleviate traffic jams in the Azeri capital Baku was kicked off on Wednesday.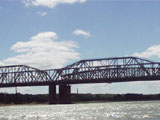 The work on the first such bridge, with a length of 2.5 kilometers and an estimated cost of $25 million, was launched on the loop located near the Meshadi Azizbayov subway station. The construction was undertaken by a local Azerkiorpu company. The project is being carried out by the Transport Ministry.
Laying of a similar bridge, on the main Tbilisi Avenue, will be tackled shortly, Minister Ziya Mammadov said.
A total of nine overpass bridges are to be built over the next two years. The construction of numerous subterranean and overhead crossings is planned as well.
The work is being implemented according to President Ilham Aliyev's decree on improving the city's transport system. The transport junctions are being built in compliance with up-to-date technologies. The bridges will have no traffic lights, which will allow avoiding congestion of traffic, Minister Mammadov said.
Foreign companies will provide consulting services on the construction operations.
/AzerNEWS/