Initial results of negotiations aimed at importation of about 200 multiseat buses to Azerbaijan will be known soon.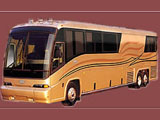 As APA informs, negotiations are currently underway with Iranian, Korean and Chinese companies for purchasing of buses. Depending on the results of negotiations, buses will be brought to the country either this year or next year.

Purchasing of each bus will cost approximately $100 thousand. 55 new buses were brought to Azerbaijan last year. 50 of them are the "Iran Hodro" marked buses produced by Iran and other 5 were produced by China.

In general, $5.5 million were spent for purchasing of buses at the expense of domestic resources of entrepreneurs. Those buses are already put into operation and operate in inter-regional and interurban routes.