Construction of about 450 cars in more than 10 modifications was implemented in the Ganja Car Factory (GCF) from the end of 2004 to the beginning of March.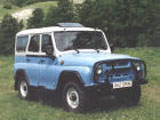 As a result of it, the number of employees and average amount of salary increased by 2 times in comparison with the previous years and volume of taxes transferred by the enterprise to the state budget reached AZN 294.3 thousand, APA informs.
131 "UAZ" marked cars were built in the car factory from August, 2005 to March of the current year. Building of modern "Hunter" and "Simbir" marked cars is implemented in GCF at present and assemblage of "Patriot" marked cars will be started soon.

Besides, "OKA" marked cars have been constructed in the Ganja Car factory since December, 2004 and 314 "OKA" cars were constructed in general in accordance with the bilateral contract ended at the beginning of this year. The sides will prolong contract's period soon. It is an interesting fact that unlike "OKA", "UAZ" cars are completely built in GCF.

According to the information given from GCF, in order to expand production, the enterprise is currently holding negotiations with leading car producers, including Chinese companies. As a preparatory phase for negotiations, new construction area is being built at the 20 thousand square meters territory of the enterprise.