Staff reforms have been started in the Azerkimya State Company (SC).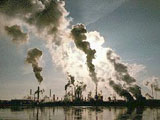 As APA informs, the heads of three enterprises being related to the former president of the State Company Fikrat Sadigov were dismissed.
Dismissed are the director of the Organic Synthesis Plant Tabrik Guliyev, director of the Synthesis Rubber Plant Shafa Aliyev and director of the Superficial Active Substances Plant Aslan Aslanov. Changes in the main office of the State Company also will be implemented soon.

Though the information was confirmed from Azerkimya, it was reported that no new directors were appointed to the abovementioned plants. At present the chief engineers temporarily head the plants.
Inspections are implemented in the Ethylene-Polyethylene Plant and other enterprises under the instruction of the Azerkimya management.