Module power plants constructed in Sheki and Khachmaz will be activated in August and September, respectively.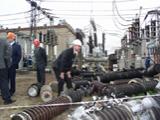 As APA reports referring the Azerenergy Vice-President Marlen Asgarov, 10 power units each of 8.7 megawatts will be installed in the power plants. In addition to the Astara module power plant, this year 4 analogous stations are planned to be built in general.
Other two stations will be constructed in Baku and Nakhchivan.
Mr.Asgarov said that works are implemented to increase capacity of the Mingechevir Hydroelectric Power Plant as well: "We will reduce fuel consumption in this station. Last year we carried out reconstruction in one of the power units at our own expense and in February that power unit was connected to the network. As a result, we obtained 330 megawatts of power instead of 170 megawatts. Conditional fuel utilized for 1 kWh of electricity was decreased from 405 to 320 grams there".