Approximately 600 citizens have applied to authorized credit organizations participating in mortgage crediting within the week.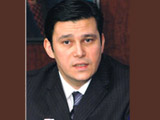 According to the executive director of the Mortgage Fund of Azerbaijan (MFA) Faig Mammadov informing journalists about it, 20 of those appeals were submitted in official form and others are being examined: "The process will gradually extend. Taking into account that it is a new system in Azerbaijan, structural changes are continued both in the Mortgage Fund and authorized credit organizations."
Mr.Mammadov giving an example from the world's practice noted that in Russia 7-10 of 100 persons officially applying to banking credit organizations were granted mortgage credits at the end.