A seminar for mass media representatives was held in the National Bank of Azerbaijan (NBA) on introduction of the mortgage system.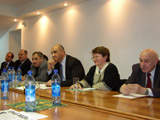 The executive director of the Mortgage Fund of Azerbaijan (MFA) Faig Mammadov opened the seminar with an introductory speech and said that the goal of organizing such events was to thoroughly inform mass media and the public about mortgage, APA informs.
Mr.Mammadov speaking about provision of mortgage credits at the expense of MFA's funds noted that the key objective of the Fund was to establish a mechanism in the country for providing population with apartments though long-term mortgage crediting: "The basic functions of MFA is to refinance mortgage loans granted by authorized credit organizations. The state budget, MFA inpayments, placement of securities, institutional investors, foreign credits, aids, grants, and other non-prohibited sources participate in formation of funds of MFA."
Mr.Mammadov said that among the participants of the mortgage market were MFA, authorized credit organizations, insurers, evaluators, notaries, and registration authorities and noted that the number of participants of this market would increase in the future.
The deputy executive director of MFA Rahman Humbatov attending the seminar and speaking about the mortgage system in the world's practice said that there were four main models of funding of residential building in the world. These models are implemented through securitization of mortgage credits, specialized mortgage banks, residential-building deposits and banks in universals form. As to the terms for receiving mortgage credits, Mr.Humbatov noted that the number of joint mortgage borrowers could not exceed 3, joint mortgage borrowers could be only near relatives of a borrower, a seller of an apartment purchased through a mortgage credit could not be a near relative of the borrower, mortgage must be absolutely officialized with a mortgage security, and one person could not simultaneously borrow two mortgage credits.
It should be noted that in addition to main salaries of borrowers, allowances, annual bonuses, leasing charges and other additional incomes will be taken into account during calculation of average monthly income when borrowing a mortgage credit. Concessions will be applied to credits provided by MFA.