The State Social Protection Fund (SSPF) has started distributing social insurance certificates to social insurance payers in Azerbaijan.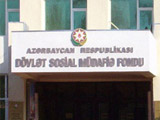 APA was informed from SSPF that certificates're already distributed to social insurance payers in Barda, Gusar, Devechi, Zagatala, Ismailli and Sabirabad. The Fund sent certificates to its local departments in approximately 25-30 regions.
Distribution of certificates to social insurance payers in Baku will be started in these days. It is planned to provide all employees in the republic with certificates by the end of the year.

Social insurance certificates were prepared in Turkey. 1.5 million certificates were brought to Azerbaijan from Turkey on demand of SSPF.

Employees may learn amount of social insurance fees in their individual accounts any time by entering the Internet page of the Fund.