The South Caucasus project manager of the PUM Program of Netherlands (Program for Sending Managers Abroad) Pieter van Gelder is on a visit in Baku from March 7 to 11.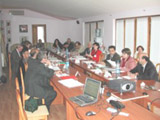 As the APA was informed from the National Confederation of the Entrepreneurs (Employers') Organizations of Azerbaijan Republic (AEC), the PUM Program is provided for sending highly skilled specialists to Africa, Asia, Latin America, Eastern and Central Europe on free-of-charge basis.
This visit realized in AEC's initiative aims to further improve activity of local companies. So, during the visit implementation of this program in Azerbaijan will be monitored, future development lines will be identified, meetings will be held with new companies applied for invitation of experts, and issues on expanding cooperation between AEC and PUM will be reviewed.
A meeting with Mr. Gelder will be held in AEC on March 9 and local businessmen who intend to invite and already invited experts through the PUM Program are also expected to attend the meeting.
In general, as of today, about 70 experts have been invited by means of AEC under the PUM Program for providing advisory services to local companies.