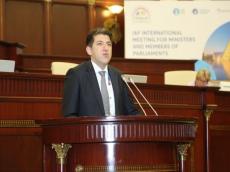 Azerbaijan takes major steps to turn into a space hub, Azercosmos Deputy Chairman Fuad Aslanov said this at the 13th IAF international session.
In his speech, Fuad Aslanov also stressed the importance of the proper use of the possibilities of environmental protection through space. He added that Azerbaijan conducts monitoring and submits its reports on space activities.
"Along with other spheres, we pay special attention to agriculture. We also observe the changes taking place in the period of global warming. We have an opportunity to follow the processes taking place with the help of Earth observation satellites. As Azercosmos, we also prioritize the field of education. For this purpose, we work directly with a number of educational institutions in the country and will continue this work. Azerbaijan has become the center of the region in energy, business and many other areas. We will make every effort to turn our country into a space center," he said.
Azercosmos Deputy Chairman expressed confidence that the 74th International Astronautical Congress in Baku will further contribute to the development of the space industry.
Notably, the International Congress of the International Astronautical Federation for Ministers and Members of Parliament (MMoP) has been organized since 2009.
The 13th meeting is being held on the eve of the 74th Baku International Astronautical Congress scheduled for October 2-6.
The International Astronautical Congress in Azerbaijan was held for the first time in 1973 on the initiative of National Leader Heydar Aliyev.
The 24th International Astronautical Congress was held in Azerbaijan on October 7-13, 1973 under the motto "Space Research - Penetration of Science and Technology". Baku became the first city in the South Caucasus region where this event was organized.
In 2019, Azerbaijan's capital won the right to host the most prestigious event of the space industry for the second time at the General Assembly of the International Astronautical Federation in Washington, DC.
Organized by Azercosmos, the 74th International Astronautical Congress "Global Challenges and Opportunities: Give Space a Chance" will be held in Baku on October 2-6, 2023.