Volume of deposits of physical and juridical persons in banks operating in Azerbaijan increased by 1.7% in January, 2006 and totaled AZN 1.316bn by February 1.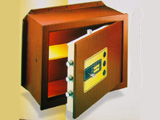 As APA was informed from the National Bank of Azerbaijan, in the reporting period deposits of legal persons increased by 2.7% and formed AZN 821.7m.
Volume of funds of physical persons in banks amounted to AZN 494.1m by the beginning of February and it shows that some 0.1% reduction has been registered since the beginning of the year.
AZN 220.5m population's savings were deposited in state banks and AZN 273.6 m in private commercial banks. As a result, volume of funds in state banks has increased by 1.9%, and volume of deposits in commercial banks decreased by 1.6% since the beginning of the year. AZN 105.2m of total deposits was put in banks with foreign capital participation, and it exceeds the analogous figure by January 1 by 1.9%.