Economical relations between Japan and Azerbaijan will be the focus of attention in the business forum, to be held during president Ilham Aliyev's visit to Japan.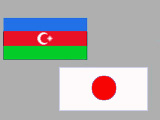 The forum will be held at Imperial hotel of Tokio, on March 8. More than 30 companies, working in different spheres of Azerbaijan economy, will participate in the forum, ANS informs.
Wine and tobacco producers, the companies being occupied with fish production, agriculture and with the production of building materials, will represent Azerbaijan.
Besides it, the representatives of all the big companies,working in the sphere of computer production and information-technologies, banks and other large holdings will take part in the forum.
Japan will be represented by the world marks as Mitsibushi, Toyota, Honda, Nippon Express, Toshiba and companies Itochu and Mitsui, Japan International Cooperation Bank, the bank of Tokio, and some assosiations of Japan owners.
Some informationwill be given about Azerbaijan investment area, and the bilateral meeting of the businessmen will be organised. The sides hope that such meetings, will strengthen the business relations between the two contries.