Volume of deposits with fixed period attracted by Tekhnikabank increased by 12% over last two months.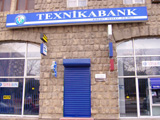 Assets of the Tekhnikabank Joint-Stock Bank has increased by 2% since the beginning of the current year and totaled AZN 66.3 million by March 1. Volume of deposits with fixed period attracted by the Bank has increased by 12% over the last two months and formed AZN 19.1 million.
APA was informed about it by the vice-chair of the Administrative Board of Tekhnikabank Khagani Guluzade.
In the reporting period credit portfolio of the Bank increased by 2% and amounted to AZN 46.6 million by the beginning of March. Rate of return of shares of the Bank was 52%, and volume of cash in accounts of citizens increased by 3% and exceeded AZN 20.3 million.
As a result, Tekhnikabank, having more than 35 thousand clients, was the biggest taxpayer among private banks in the republic last year and during two months of the current year. According to Mr.Guluzade, last year alone Tekhnikabank transferred AZN 1 million of profit tax, and AZN 2 million in general to the state budget.
By the beginning of 2006, assets of the Bank totaled AZN 65 million, credit portfolio AZN 45.7 million, deposits with fixed period AZN 7.1 million, and cash in citizen's accounts AZN 20.3 million.