A Memorandum of Understanding was signed today between the Azerbaijan Bank Training Centre (ABTC) and ACDI/VOCA, the implementing organization of the US Agency for International Development (USAID).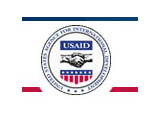 The Memorandum was signed by Mr. Muhammad Junaid, ACDI/VOCA Chief of Party of the project and Mr. Javanshir Abdullayev, Director of ABTC.
Mr.Abdullayev said that the Memorandum of Understanding envisages cooperation between USAID's project and ABTC for three years: "Development of ABTC's curriculum will help specialists of financial institutions and their business partners-SMEs (small and medium size enterprises) to attend various specialized and certified courses and receive a profound knowledge of various management methods and styles. This cooperation will also contribute to expanding the pool of specialists for Azerbaijani financial institutions and will ease access to credit for small and medium size enterprises, which is one of the goals of this project."
Mr.Junaid said that the USAID-funded three-year project aims at cooperation with the government of Azerbaijan, banks and non-banking financial institutions, international donor organizations and financial sector associations to increase access to credit for small and medium size enterprises in the country.