Mobil Sharifov was appointed to the chief position of the Administrative Board of "AtaBank" OJSC.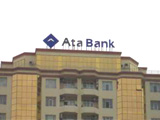 According to APA, Sharifov, born on November 17, 1966, graduated from the Azerbaijan Agricultural Academy in 1991 and MBA faculty of the Moscow State University named after M.V.Lomonosov in 2006.

Sharifov, who previously worked as a chief accountant in various organizations, was the Head of the Ganja branch of the International Bank of Azerbaijan in 1996-2001, and Chair of the Administrative Board of the Nikoil Investment Commercial Bank till the end of February, 2006.

It should be noted that the previous Chair of the Administrative Board of AtaBank Hikmat Kochak will continue his activity as a member of the Supervisory Board.