The Azerfon Company, the third cellular operator in Azerbaijan, will start operation from the second half of 2006.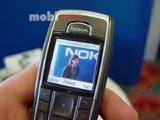 As APA reports, the information was spread by the German Siemens Company in Azerbaijan Samir Akhundov.
According to Mr.Akhundov, technical and supply problems are currently solved. The Siemens representative noted that allocation of administrative building was also among the works to be carried out: "Azerfon is a joint venture. Siemens has 30% share in this project and we do our part of work".