The management of McDermott Caspian Contractors, Inc. (MCCI), the Caspian operating subsidiary of J. RayMc Dermott, S.A. (J.Ray), takes this opportunity to comment the incident at the MCCI operated facility at Baku Deepwater Jacket Factory named after Heydar Aliyev (BDJF) in the morning February 24, 2006 and disclose the results of their preliminary investigation to the public.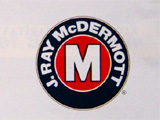 According to Trend, the company confirms that Azerbaijani members of their workforce contacted at least one Azerbaijani member of management, advising their intent to put up posters commemorating the 14-th anniversary of Khodjali genocide on the company Information Board. The request was made February 23, and the workers were properly advised to seek permission from their direct supervisors. This was not done. Instead, the posters were affixed to the Information Board before regular office hours February 24 without prior permission being granted but, according to workforce representatives, with the workers' intent to promptly seek supervisory permission. Because company information boards are expressly reserved for company business, permission is required before displaying any material not produced by the company. This is a company policy at all J. Ray McDermott facilities worldwide, the company report says.
"Early in the morning February 24, during the period between putting up the posters and seeking permission, there were two instances of confrontations related to the posters. However, the company denies reports that the posters were forcibly stripped from Information Boards, ripped up and stepped on. The preliminary investigation which included review of mobile phone pictures and video taken by workers leads us to understand that in only one case, where a poster was (improperly) affixed with duct tape, was the poster damaged during removal", the statement notes.
MCCI immediate response included a number of measures. Two foreign supervisors identified by Azerbaijani workers as being associated with the incident were removed from BDJF facility and have since left Azerbaijan. The company commenced such action voluntarily, even before meeting with representatives of the government and the workforce.

"Neither supervisor will return to Azerbaijan as an employee of MCCI or any other J. Ray company", the statement reports.
"The Governor and other authorities of the Garadagh district, officials of SOCAR and BDJ, as well as workforce representatives attended a meeting at the BDJF facility on the morning of February 24 to discuss the situation. During the meeting, Dan Houser, Vice President and General Manager, Caspian Operations, expressed his an the company's regret and apologies that this incident occurred, and outlined the company's intended response. Because Hauser's and the Company's sincerity was clear and evident, both the apology and response were accepted by all present, including the workforce representatives who then carried Houser's message back to their fellow employees. At that point, at approximately 12.00 hours on February 24, work recommenced at the BDJF facility".
"As a company, we are very much aware of the scale of the Khojlai tragedy and that February 26 is a black day in the history of Azerbaijan. Most of our foreign employees and supervisors share this awareness, the goal being to educate and promote mutual understanding. Obviously, such courses need to continue and with greater reach and emphasis. In the meantime, we again express our condolences over the Khodjlai tragedy and offer our sympathy to our Azerbaijani employees and all Azerbaijani people. We will make every effort to ensure that this kind of incident does not happen again at MCCI. We will continue our ongoing efforts to promote respect for the customs, culture and history of each country in which we operate. We are committed to integrity, fair and ethical behaviour and compliance with all applicable laws and regulations within Azerbaijan and elsewhere. We demand that our employees treat each other fairly and respectfully, and the management of MCCI will not tolerate behaviour from any of its employee, be they Azerbaijanis or foreign workers".
MCCI regret this and other isolated, unfortunate incidents, "but we nonetheless proud of what we have accomplished in Azerbaijan. We are proud to participate in the development of Azerbaijan's oil and gas industry. We are proud to have employed thousands of Azerbaijani citizens with terms and compensation that are among the best anywhere in the country and in the Caspian region. We are proud of the professional training and development provided t our employees. We are proud that our products and services regularly meet or exceed our customers' requirements or expectations. We are proud of the significant charitable contributions made by the company and by our employees. Most of all, we are proud that all of this has been achieved through the efforts of Azerbaijani and foreign employees and managers, working together. We believe that we can all work to overcome obstacles to achieve our shared goals, so our past accomplishments will seem small compared to those we can achieve, together, in the future", the statement notes.