The commercial banks of Azerbaijan must increase their capitals.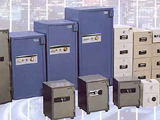 According to the information, given by Raymond Convey, the head of the Baku agency of Europe Development and Reconstruction Bank, the banks can't widen the crediting process because of the little amount of the capital.
He considers that the best way to solve this problem is to merge banks. The Europe bank is ready to help them in this issue.
Mr. Convey considers that though the demands are getting more and more day by day, the bank sector is not so stable.