The US Federal Reserve System has issued new $10 notes from today. The banknote is green with shades of orange, yellow and red. The portrait of Alexander Hamilton, the nation's first Treasury secretary, is still on it, and the Treasury building on the other side.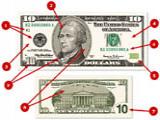 According to CCNMatthews, the new U.S. $10 note will begin appearing internationally in the coming days and weeks following its introduction into circulation in the United States today.
The new $10 note, which features images of the Statue of Liberty's torch and the words "We the People" from the U.S. Constitution, incorporates easy-to-use security features and subtle shades of orange, yellow and red into its design.
The timeline for circulation internationally depends on the timing of orders placed by a local banking system to the Federal Reserve, which distributes U.S. currency through domestic and international banking institutions.
The $20 and $50 notes already have undergone redesigns and the $100 note is scheduled for a freshening, too, but the bureau hasn't yet said when that will occur.
There are no planned changes to the $5 bill, and bureau officials the $1 and $2 bills also will stay as is.