Baku Commercial Bank (CB) joined "Bistraya Pochta" money transfer system and will start providing services March 6.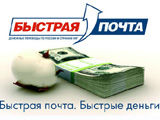 As APA informs, the "Bistraya Pochta" system, which is widely used in the CIS territory, operates at tariff (2%) lower than some other similar systems.
This system introduced by Impex Bank of Russia implements express transfer within 1 minute. At present there are 3000 offices providing services on "Bistraya Pochta" system.

Bank of Baku also operates on the Travelex, Western Union and Migom systems.