The Chamber of Accounts of Azerbaijan (CAA) will conduct inspections on state budget expenditures in the National Academy of Sciences and institutions of the Ministry of Agriculture this year.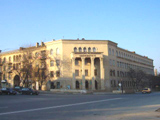 As APA reports, pursuant to the CAA work plan for 2006, the Chamber will implement audit measures on health care expenditures allocated for the Azerbaijan State Railway Office, fishery and hunting charges, and in the Agency for Rehabilitation and Reconstruction of Areas as well.
CAA also plans to conduct inspections on construction of inter-regional roads and melioration expenses.