Citizens wishing to obtain mortgage loans can apply to authorized credit organizations from yesterday.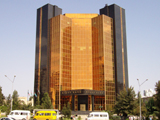 As APA informs, Mortgage Fund (MF) has already identified the list of insurance companies and independent evaluators to participate in mortgage crediting.
The list of selected insurance companies include the Azersighorta State Insurance Commercial Company, International Insurance Company Limited Liability Company, Standard Insurance Limited Liability Insurance Company, Atasighorta Open Joint-Stock Company, Ateshgah (Azerbaijan-Russia) Joint Stock Insurance Company, MBask Joint-Stock Insurance Company, and Bashak-Inam (Azerbaijan-Turkey) Joint Stock Insurance and Reinsurance Company.

The list of identified independent evaluators include the Chamber of Industry and Commerce of Azerbaijan Republic, Azerexpertiza Union, AzIntellekt Service Consulting Company, Azkon Consulting Company, Bilandar Company, KONEKO LLC, MAK Consultancy Baku Ltd. Joint Venture, REC Invest evaluation company, and VneshExpertServis Consulting Company.
The authorized credit organizations in mortgage crediting are the International Bank of Azerbaijan, Bank Standard, Azerdemiryolbank, Azerigasbank, AtaBank, Bank of Baku, Caucasian Development Bank, Kochbank Azerbaijan, UniBank, Capital Bank, Nikoil, Tekhnikabank, Khalgbank, Bank Respublika and Turanbank commercial banks. As to the conditions of mortgage crediting, mortgage credits will be provided to citizens for a period of 3 to 15 years. The amount of the credit should not exceed AZN 30 thousand (AZM 150 million) and mortgage rates should not be more than 12% per annum.
Credit amount should not exceed 70% of the market price of mortgaged real estate by the credit provision date, and monthly payments on mortgage credit should not exceed 50% of monthly total income of a mortgage borrower. Borrower's age should not exceed the determined pension age by the last credit repayment date and credit must be secured with mortgage of real estate. Mortgaged real estate will be evaluated by independent evaluators.
Rights of the mortgage borrower will be registered by the state under the legislation. Main credit debt and calculated interest rates must be paid in equal parts every month. Life and work capacity of the borrower and mortgaged real estate must be insured at market prices provided that the insured amount should not be less than the mortgage loan.