State Veterinary Service Deputy Chief Emin Shahbazov told that discovery of Bird flu in Gilezi Poultry farm can not cause stop of production.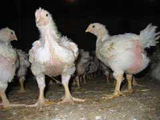 Selling of chickens is not planned to stop in the markets, APA reports.

He said that the State Veterinary Service recommended poultry farms to convert to isolated regime. Veterinary Service doesn't think that farms working in such regime should be closed.
As for the Gilezi Poultry Farm where the virus was found, Shahbazov said that this farm was not in isolated regime. Even the farm didn't have a vet, Veterinary Service doesn't think criminal case should be initiated now.
Head doctor of Mardakan Broiler Joint-stock Company Mail Mikayilov told APA that they continue selling chickens even after Bird flu found in Gilezi Poultry farm.
Saying birds don't die in Mardakan poultry farm, Mikayilov stated that they take necessary measures to prevent Bird flu. Only authorized persons are admitted to Mardakan Farm and all employees wash and wear special clothes. When they return from work their clothes are disinfected.
Siyazan broiler Open Joint-Stock Company manager Ogtay Huseynov told APA that they continue selling chickens though selling has decreased.
"Our chickens are not dangerous. We observe all sanitary-hygienic norms and gave instructions to all employees. Birds do not die here".