Pursuant to the 2006 work plan, the Chamber of Accounts of Azerbaijan (CAA) plans to conduct four audit and two analytical inspections in the State Social Protection Fund (SSPF).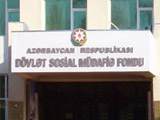 As APA reports, generally, CAA considers that a relevant model or approach should be adopted concerning an audit mechanism of SSPF. Because according to the legislation, this organization must be audited every year. The Chamber also said that they planned to implement two audit and one analytical inspections in the State Oil Fund (SOFAR) in 2006 as well.
According to CAA specialists, audit measures to be conducted in SOFAR must be organized taking into account the fact that the scope of SOFAR's activity expands.