Yesterday Microsoft Corporation held the opening ceremony of its first official representation in Azerbaijan.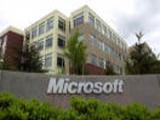 As APA reports, the General Director of Microsoft CIS, Mr. Sergiusz Wiza and General Director of Microsoft Azerbaijan, Mr. Volodymyr Chaykovskyy hosted a press-conference to this event.
Mr. Chaykovskyy said that their major targets are related to expanding the partner network of the corporation and helping the government of Azerbaijan implement the State Program for Development of Information Communication Technologies.
Besides, the representative office of Microsoft in Azerbaijan will make every effort to contribute to improvement of software business infrastructure in the country, to bring it up to the level of international standards, and to introduce complex solutions that will ensure the economic efficiency of IT projects.
According to Mr. Sergiusz Wiza, they had conducted appropriate researches to identify the potential of the local information communication market prior to opening the office.
The decision on the necessity for Microsoft's presence in Azerbaijan had also been supported by the scope of Azerbaijan's integration into global processes, progressive development dynamics of the country, projects implemented here by international organizations and other factors.
The Microsoft Corporation also intends to open offices in Armenia and Georgia within the following 2 years.
Mr. Sergiusz Wiza added that $1 million will be spent for operation of the representative office in Azerbaijan every year. Although expenditures of the Corporation are expected to exceed incomes during first 3-4 years, the situation can be reversed later on.