Iran Air applied to the AZAL State Concern over the flight frequency increase on the Tehran-Baku route.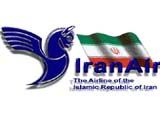 The company plans to perform two flights a week. Now it makes only one flight weekly, AZAL told Trend.
The Tehran-Baku flights will take place on Mondays and Thursdays. Iran Air decided to enhance the number of flights based on the analyses, showing the passenger flow on the route is tending to sharp rise.
AZAL is currently performing Baku-Tehran flights four times a week.