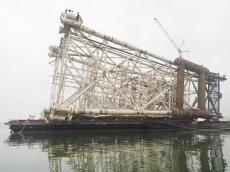 The jacket of the Azeri Central East (ACE) platform has been loaded onto STB-1 barge of the Azerbaijani Caspian Sea Shipping CJSC (ASCO) to ship to the sea, Azernews reports.
The jacket was built at the Heydar Aliyev Baku Deepwater Jackets Factory.
"The process of loading the jacket onto the barge was carried out safely. The jacket weighs 16,000 tons with 153 meters in height. This facility includes three vertical pipes - for water injection, oil export, and gas export," ASCO says.
Last year, ASCO's barge STB-1 underwent necessary modifications for operation in the Azeri-Central-East project. The certification of the barge has been updated to the required grade. STB-1 is considered the largest barge in the Caspian Sea and is 163 meters long, 45 meters wide, and has a carrying capacity of 18,000 tons.