All post-offices operating in the territory of the Republic will begin providing banking-financial services from the next year under the project "Development of financial services" implemented by the World Bank (WB) in Azerbaijan.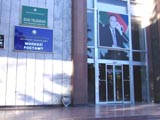 According to the information given to APA from the Ministry of Communication and Information Technologies (MCIT), the National Bank of Azerbaijan will grant a special license to the Azerpocht State Enterprise for this purpose. Money access machines and POS-terminals (point-of-sale terminals) will be installed in post-offices for providing banking-financial services during the next year.
Creation of the postal network has already been started in Azerpocht for organization of banking-financial services. The "server-room" required for establishment of the network is currently being created and this process will be completed within the first six months of the current year. The Baku branches, and if it is possible, regional branches of Azerpocht will connect to this network during the year. However, because of inefficiency from the economic standpoint, some post-offices, in particular those situated in outlying villages can be left aside the network. This issue is currently being analyzed.
It should be noted that there are 1540 post-offices in Azerbaijan at present. 1365 of them are post-offices and 175 are postal agencies. This project signed on May 24 last year and coming into legal force since October 14, 2005 is worth $17.5 million. $12.5 million of these funds were granted as a credit by the World Bank to Azerbaijan, and other $5 million will be funded by the government of Azerbaijan. The project will be implemented till 2008.