A problem arisen in connection with not selling of produces manufactured in the Ethylene-Polyethylene plant of the Azerkimya State Company (SC) has not been analyzed by the Ministry of Industry and Energy yet.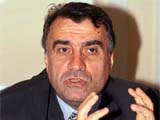 APA was told by the minister of industry and energy Natig Aliyev. According to him, "Azerkimya" SC has not appealed to the Ministry in connection with the problem.
"I do not know how and why the Company appealed to the government. But we have received no appeals. I think that Azerkimya should address this issue independently because this problem is of commercial character," N.Aliyev added.
It should be noted that although operation of the Ethylene-Polyethylene plant stopped in the result of the fire happened in November, 2005 was reinstated 2 weeks ago, the plant does not work at its previous productive capacity. Accumulation of ready produce in the storehouses of the plant stopped operation of some workshops. If the problem is not addressed, the plant is expected to completely halt production.