Fitch Ratings affirmed Tuesday Azerbaijan's foreign and local currency issuer default ratings at "BB" with a stable outlook, along with the same rating for the country ceiling.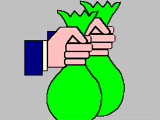 The agency said the ratings could improve if the positive dynamics of the country's economic growth and exports continue on the back of further structural reform to encourage private investment and the development of the non-oil sector, as well as further significant accumulation of foreign assets under the management of the Azerbaijan's State Oil Fund, RIA Novosti informs.
Fitch said that the sovereign rating was supported by the development of the country's oil and gas resources and moderate government and external debt ratios.
However, the agency said several factors constrained Azerbaijan's sovereign ratings, including high social needs, a difficult business environment, poor corporate governance and transparency, the underdeveloped non-oil sector, weak banking system, and corruption.